School Snapshot
Years Offered
K-12
Composite
Co-Educational
Services
Education Support Centres
Boarding
Contact us
9194 9500
3 Port Drive,
Broome WA 6725
Housing and Relocation Support
Employees of St Mary's College are required to make a housing contribution toward the ongoing provision of their accommodation. This contribution is a set percentage rate of salary (10% for full occupancy and 7.5% for shared occupancy) which is paid via a payroll deduction.
St Mary's College is a coeducational, Kindergarten to Year 12 Catholic School that caters for the diverse educational, spiritual and cultural needs of its students by promoting self-esteem and initiative.
Our School
St Mary's College is a coeducational Kindergarten – Year 12 Catholic School with a rich history of educating students from across the Kimberley region for over 100 years. A number of current students, families and staff members have a long association with St Mary's College, spanning numerous generations.
Our College community recognises it is the important contributions from many people and religious orders that makes St Mary's College what it is today; this information can be found in our history section of this website.
Staff at St Mary's College are committed to educating students for life by providing learning opportunities that are explicit and purposeful in a safe and supportive environment. The College offers a wide variety of programs to cater for the educational, social and emotional needs of students from K-12. All students are encouraged to grow in their faith and Christian values and to strive to achieve their personal best in every aspect of their education. Students who are academically gifted benefit from a range of opportunities designed to extend and accelerate their talents. Students requiring additional learning support are catered for by learning support teachers on both campuses. A range of academic, sporting, cultural and arts programs delivered by dedicated staff strive to meet the educational needs and interests of all our students.
We place great emphasis on the pastoral care of students. Classroom Teachers, Home Room Teachers, our Social Worker, Student Well Being Teacher and School Psychologist along with all members of staff play a vital role in caring for the students at St Mary's College.
Our student population is a rich fabric representing a diversity of cultures and backgrounds. We have a strong partnership with Broome Residential College, enabling many students from remote Aboriginal communities to attend our school while boarding at the residential facility.
Our College is well supported by parents, guardians and friends of the St Mary's community. We have a very committed College Board and Parents and Friends Association. St Mary's College is also supported by close partnerships with Our Lady Queen of Peace Parish, the Clontarf Football Academy and the Graham (Polly) Farmer Foundation. We are most grateful for the generous amount of time and effort that is given by our community members and partners to support the work of educating each of our students.
Read more …
Read less …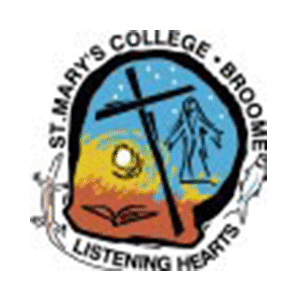 Register Interest
* indicates required fields
Our Location