School Snapshot
Years Offered
7-12
Secondary
Co-Educational
Focus Areas
Academic
Sports
Trade Training
Services
Education Support Centres
Languages
Contact us
9721 0000
Rodsted Street,
Bunbury WA 6230
At Bunbury Catholic College, students create connections for life. Our inclusive community celebrates diversity and encourages respect and care for others. Every student has a place at Bunbury Catholic College.
Our School
With guidance and support from our dedicated staff, our students develop the courage, determination and confidence to embrace the future and discover their place in the world.
Families trust Bunbury Catholic College to provide a holistic education for their children in a safe environment, where academic rigour is combined with a focus on each student achieving their personal best in preparing for their life ahead.
Our flexible learning pathways, broad curriculum and specialist programs embolden students to choose their future with purpose.
In the Marist tradition, following the 'way of Mary', Bunbury Catholic College encourages a love of learning, service to others, a sense of family spirit and presence of mind to guide students on their lifelong journey.
Established in 1973 as one of the first Catholic co-educational high schools in Western Australia, Bunbury Catholic College has a heritage through the Sisters of Mercy and the Marist Brothers dating back to 1894.
During five decades we have established as a leading educator, offering a quality Catholic education for students in Year 7 to Year 12 in the heart of Western Australia's Second City.
Read more …
Read less …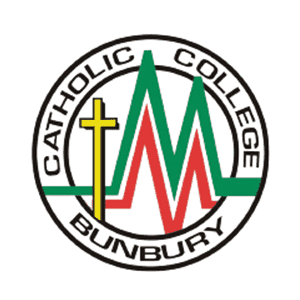 Make an enquiry
* indicates required fields
Our Location