School Snapshot
Years Offered
7-12
Secondary
Co-Educational
Focus Areas
Academic
Music
Performing Arts
Arts
Sports
English Second Language
Information Technology
Science Specialist
Polly Farmer Foundation-Follow the Dream Programme
Services
Education Support Centres
Languages
Contact us
9021 4377
44-46 Lionel St,
Kalgoorlie WA 6430
John Paul College educates young men and women within a Catholic framework of justice, peace and charity, which underpins all activities and relationships fostered at the College.
Our School
John Paul College is a Catholic co-educational secondary College from Year 7 – 12 catering for 710 students serving the Eastern Goldfields of Western Australia. The College offers a holistic education, supporting the spiritual, religious, intellectual, physical and pastoral needs of all students. John Paul College prioritises literacy and numeracy support across all years. There are strong academic and workplace learning opportunities provided with students gaining University and TAFE placements at the completion of Year 12.
A focus is assisting all students to attain Secondary Graduation. The College's Pastoral Care structure provides support and care for all students and complements student growth in all aspects of the College. A broad range of extra-curricular activities in sport, music, drama, dance and a wide range of academic competitions, enhance the pastoral and educational programs offered.
Inter-House sporting competitions and broad student leadership experiences highlight the quality of pastoral care provided to students. The model of schooling offered by John Paul College, underpinned by Gospel values, encourages students to aspire to our College Motto – Justice, Peace, Charity – in all facets of school life and in the broader community.
Read more …
Read less …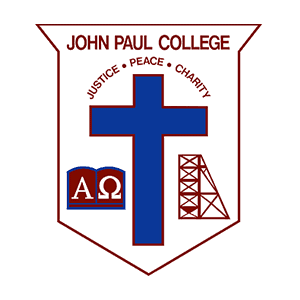 Make an enquiry
* indicates required fields
Our Location